JACKSON FLATS
Knoxville, Tennessee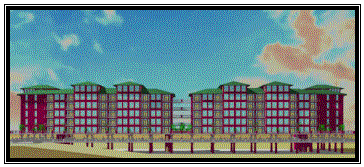 Jackson Flats is a planned 112 unit, $24 million condominium project in downtown Knoxville. Construction of this project is planned in two phases, with each phase consisting of two 28 unit buildings. Condominium units will be one and two bedroom with an average size of +/- 1,100 square feet. Unit finish will be high-end, with hardwood or stained concrete floors, ceramic tile or travertine floors in the bath areas, granite countertops and stainless appliances.
The site is approximately 2.6 acres at the corner of Gay Street and Jackson, and is currently a secured parking lot owned by Cityscape with a 10-year lease to the city of Knoxville. The condominium development will be built over the existing parking area, providing covered secure parking for the residents of the development.
Construction for Phase 1 is planned for early 2007, or immediately following completion of the rebuilding of the Gay Street viaduct by the city of Chattanooga. Construction of the viaduct is currently underway and slated for completion in December of 2006. Phases 2 of the Jackson Avenue project will begin following completion of Phase 1, in late 2007 or early 2008.